Five Decades of Growth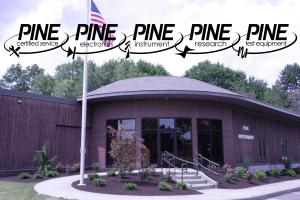 Pine Instrument Company is the genesis of three independent and diversified business units – Pine Research Instrumentation, Pine Electronics, and Pine Test Equipment.  Each unit effectively serves a variety of industries worldwide.  Vertically integrated, all of the Pine Companies cross-functionally benefit from internal resources and supply chain management.  Learn more about the Pine Companies and Brands in this Pine Companies Summary.
These invaluable resources range from machinists, warehouse staff, electronics circuit board designers and assemblers, CAD/CAM drafters, IT support with proprietary programs and ERP system, human resources, accountants, marketers, and engineers of many disciplines.   
Headquartered in Grove City, Pa., the companies collectively employ more than 100 employees.  A perfect business size, the Pine family is large enough to satisfy customer needs and small enough to provide extraordinary customer service. 
Our Industries
To date we have worked in numerous industries with businesses around the world. With healthy diversification, the following are some of the primary industries in which we proudly serve.
Transportation
Rail
Construction
Oil & Gas
Military
Industrial
Research & Development
Energy
Government